Name: Saint Elemiya School (50.00% in 3 votes)
Type: ADV
Platform: WINDOWS
Company: Lunar Soft
Release date: 1995
Reviewed by: Helmut

You, NISINA HITOSI in the game, are an agent of Secret Police and missioned to investigate the murder case in the SAINT EREMIYA SCHOOL of girls. Five girls of the school died from the destruction of soul. The destruction of soul is a very rare phenomenon, so it's entirely extraordinary that it happens at 5 girls at the same time in a place. To figure out the case you get a job of chemistry teacher in the school, with your standing concealed. And a girl-partner KAMISIRO IZUMI gets an entrance into the school as a student. You and your partner work severally and exchange information sometimes. ST. ELEMIYA is a mission school and the president and the chief teacher are nuns.

You first meet the chief teacher who is a woman of discipline and of daunting touch. Then you meet three teachers-- gymnast ARIGA, biology teacher SINJO, and English teacher SUDA. ARIGA is a muscular man and harass students sexually. SINJO appears to be a usual man. SUDA is a lesbian and doesn't like male. The president of the school is a teenager and looks helpless under the chief teacher. Though ST. ELEMIYA is a noted school, there's a somewhat strange atmosphere.

One day you receive a letter from the murderer and by its information save a student YAMAMOTO KAORI from ARIGA's rape in the gymnasium. After that, ARIGA makes no more trouble and you get information from KAORI and many students; KUROSAWA the chief student, KAYAMA in health-care room and so on. Some of people in the school like you and do favors for you, but others are not willing to give you help, so you should make them obedient by power of love. Thus you get known that music is involved in the case and visit the music teacher ITSIJO, then in the last place find out conspiracy of some ones which resulted in murder.

GAMEPLAY

Playing this game isn't difficult. There is no decision that leads you to bad ending. But the command choice is different from that of other games. Command icons are displayed continuously at the top of game window. Command is usual-- talk, ask, look into, think, move (or change), system. Once you choose a command, mouse cursor is converted variously according to the command and that command continues. It's convenient when you use a command to a lot of objects.

By the way you must find out all working point to go ahead in next stage. Especially when you look into things (ex. books, tables, wastebin and so on) in a room, it's difficult and annoying. But don't give up, for it's so in only a few stages. Of course you must thoroughly talk, ask and think also. In hentai scenes you must find out all exciting points also such as neck, thigh, breast etc. Maybe it will be more interesting than annoying. In those scenes command icons are changed; lips, tongue, hand, body, system etc and how much a girl is satisfied by your actions is displayed in red color at left side of the game window. As you are going to move, choose one of the places displayed at the top of the game window.

It doesn't offer skip function of [Ctrl] key and there's a little delay in choosing a command. At title there's four menus; to view opening story, play from the first, play saved game and play hentai once more.

GRAPHIC

The game CGs are bmp files, so you can view them simply with ms-paint program without playing a game. But if you play a game, you can have more fun with animation-effects in hentai scenes midway. Those effects are mostly in stripping off girls' clothes. Many girls are pretty and attractive. Pictures are censored of course.

SOUND

The game's music is bright and comfortable. They're midi files. There's also sound effect in choosing a command, moving, and getting an item. As you want to skip by holding on [Enter] key, that effect will annoy your ears.

I'm not fluent in English, so please forgive me.
[ Demo Music ]

Demo Music #1
Demo Music #2
Demo Music #3

[ Screen Shots ]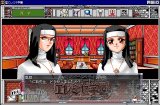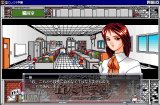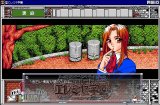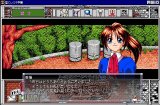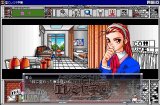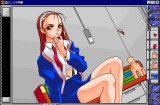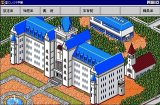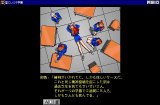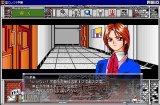 [ Voting ]