Name: Pia Carrot E Youkoso! 2 (82.35% in 34 votes)
Type: SIM
Platform: WINDOWS
Company: Cocktail Soft
Release date: 1997
Reviewed by: Lamuness

The Pia Carrot series, like the Can Can Bunny series, is one of Cocktail Soft's most famous creations. Welcome to Pia Carrot has appear in many different platforms already, including PC-9801 version, Windows version, and PC-FX version (a japanese console-video-game medium), and even in anime video! Simply, the Pia Carrot games involve cute waitresses working at a restaurant called "Pia Carrot."

Welcome to Pia Carrot 2 is just as popular as its previous piece. Cocktail Soft released a limited "deluxe pack" during October, which not only includes the game and manual, but a lso a calendar (hopefully 1998 calendar and not 1997 :P) and also a Pia Carrot 2 mouse pad!!! Unfortunately the deluxe pack has been sold out in a matter of days, leaving only the "normal pack" (minus the calandar and mouse pad) available. Oh wellĂ 

Back to the game. Basically, the setting of Pia 2 takes place a couple of years after Pia 1, in the "second" Pia Carrot Restaurant. The player (you) is a high school student 18 years old and wants to get summer job and gain some work experience. Under his friend's recommendation, he goes to Pia Carrot Restaurant and applies as a waiter. And in short, he passes the interview, and starts working in this restaurant full of beautiful waitresses (and customers too).

That's how the game starts. The game system is very similar to the one in the previous Pia 1. It's sort of a bring-up game like Princess Maker. In Pia 2, you plan what types of chores/tasks you do in a week, and your attributes (such as strength, vitality etc) will change accordingly. And at the same time, you can "woo" six of your fellow beautiful "employees" and three customers. As in other AVG's, whatever you do affects your relationship with each of the girls in some way, and the player has to plan carefully what to do so that no time is wasted. Also, like Pia 1, you can select which uniform you want the waitresses to wear, which includes a "maid suit", a "idol suit", and a "school uniform suit", which is quite interesting, unlike the medicore "simply waitress suits" in Pia 1.

Overall, this game is insane!!! The artwork is a blast! IMHO, Pia 2 has the best graphics I have ever seen in H-games because the artwork is done by some of the most famous CG artists in Japan. The music is ok, with MIDI background music and comple te voice tracks throughout the game (except for the player of course). The opening sequence is beautiful and amazing. The only little thing I did not like is that the game speed is a bit slow even on my P200 with 64 megs of RAM. Also, this game is really hungry for hard disk space: 90 megs is needed for installation, and you still need to read the voice tracks off the CD as well. Seriously speaking, however, it's still worth having the game. If you are able to get hold of Pia 2, get it and keep it!

If girls don't mind the Hentai content of this game, I think they too will enjoy this game. There is nothing disgusting or hardcore in Pia 2, everything is "normal" except the H-scenes. On the other hand, if you are one of those people who are really into hardcore stuff (which I am not into :P), this game is not for you. Also, if you are the type of gamer who wants to see H-scenes constantly, then don't play this game. The H and non-H pict ure ratio in Pia 2 is pretty drastic. I dare say that 90% of all the CG's in the game are non-H. Some gamers might be disappointed by that (it's a H-game after all), but IMHO, the superior artwork quality throughout the game make up for this really really minor issue.

As an aside, when you finish the game (which I did), there will be a new option available at the main menu: Mini Games. These games have nothing to do with the plot, they are just there for you if you feel bored. However, there are alot of mini games in Pia 2 which include: master mind, a sliding picture puzzle (pictures DO change), a card matching game, a game where you guess if a card is higher or lower than another, slot machine, another picture matching game, and finally, two very ridiculous (and short) stories (possibly doujinshi) that I don't even know why they are there. But overall, these mini games (minus the 2 stories) are pretty nice add-ons to the game. All the pict ures seen in the Mini Games section are pictures from previous Cocktail Soft games (primarily Pia 1 and Can Can Bunny Premier 2), and some pictures are newly drawn (in the picture games), meaning that they have never appeared in any game before!

Anyways, IMHO, Welcome to Pia Carrot 2!! can be considered as one of the first class, elite Japanese computer games. This is a great game, and get it by all means. Personally, I went through a lot of trouble to get this game (Thanks, Jay!). Thank you for dining at Pia Carrot and please come again!!

PS: Your attributes in the game can be translated to English from Japanese so that might be helpful to Japanese-illiterates.
[ Demo Music ]

Demo Music #1

[ Screen Shots ]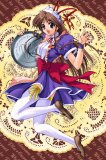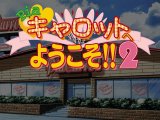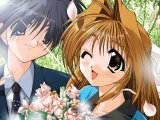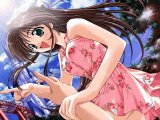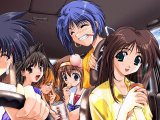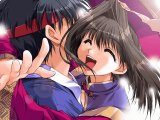 [ Voting ]