Name: The Seven Stories of Sin (54.00% in 5 votes)
Type: NVL
Platform: WINDOWS
Company: Flying Shine
Release date: 2000
Reviewed by: Anson

I bought this game in Tokyo during the summer of 2000. I thought it would be a game, but it turns out to be the seven "STORIES" of sin.

Plot:
The main character Nanaze has a father who killed someone. Nanaze thinks it is partly her fault (unknown reason) and uses her body to pay for his fatehr's sins. Later on the story, you will understand the complicated family link between Nanaze, her boyfriend, her enemies etc. The climax is when all the complicated relasionship is revalied, not when Nanaze got sucessfully reduced.

Graphics:
After finishing the game, there's lots of pictures. The qulity is pretty good.

Music:
OK music. Nothing special.

This game has little user interaction. It's basicly a story. Free game guides can be downloaded from Flying Shine's web site.

Warning:
If you don't know a lot of Japanese, like me, don't play. You'll get bored in no time.
[ Demo Music ]

N/A

[ Screen Shots ]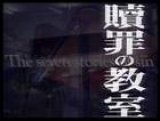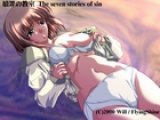 [ Voting ]