Name: Angel Crisis (51.67% in 12 votes)
Type: ADV
Platform: WINDOWS
Company: ZYX
Release date: 1994
Reviewed by: HnN

Overview:
Sci-fi H SLG game. You're part of an all female crew (gee quel surprise!) on a ship exploring some planet and as usual, the crew was stupid enough to pick up a cargo crate from an underwater ruin. Guess what's inside. If you guessed a sex crazed tentacle monster, congratulations, give yourself ten points and click "start". You've probably been playing too much H games. 8)

Story:
No brainer story reminiscent of Rabid Helix and Zenith. The story is completely linear, ie: you can't make any wrong turns so don't worry about dying; and there is only one ending. One gripe is there are about twenty rooms on the ship and you have to keep going from one to another just to find the right place to continue the story. Can finish in 1-2 hours.

H Content:
The H scenes to dialogue read ratio is average. It doesn't happen for a while but appears at regular intervals afterwards. The type? like you can probably guess, is mostly tentacle porn. It'll score higher if you like that, and lower if you don't.

Graphics:
Pictures are nice and large and good coloring and detail.

Gameplay:
There really isn't any. Its just a matter of finding where to go to continue the storyline. As I said you have to move from one room to another after each story sequence.

Sound:
Typical FM music. Nothing to get excited about. Although it does suit the coresponding atmosphere correctly.

Extras:
Standard picture mode if you complete the game. No replay. One annoying thing is you can only save your game when you're in 2 particular rooms. Either your bedroom, or the meeting room. One interesting thing is that it has a fairly sad ending, which is unusual for H games.

Total Points: 56%
Like many other titles out there, doesn't really qualify as a 'game' but more like a story that you have to 'guide' through, and 'guide' only because you can't change the outcome.
[ Demo Music ]

N/A

[ Screen Shots ]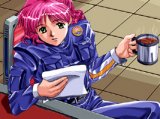 [ Voting ]